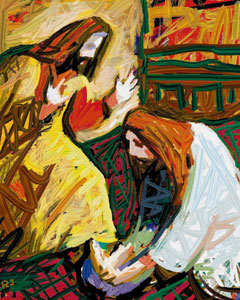 Romans 16


"I'm sure that all the Deacons and Titus 2 ladies will join me in saying, what a blessing it is to this body and to us when you choose to serve in some capacity. It was much easier for me when others would do the organizing and say,"Larry, would you mind doing such and such"? When you volunteer to serve, or cheerfully say yes when asked to,it blesses those of us who organize and try to see that all servant positions are filled.Now your motive to serve should not be just to help out.It should come from a heart filled with thanksgiving for Jesus Christ, who paid the sin debt for us that we could not pay.Still, there are blessings that start to go out to others from this.

As I read what the Apostle Paul said in the 16th chapter of Romans,I can't help but sense that he had been blessed by certain people who were willing to serve. 16:1-2 I commend unto you our sister Phoebe,who is a SERVANT of the church which is at Cenchrea; that you recieve her in the Lord in a manner worthy of the saints,and that you help her in whatever matter she may have need of you; for she herself has also been a HELPER of many and of myself as well. 16:3-4 Greet Prisca and Aquila,my fellow Workers in Christ Jesus,who for my life risked their own necks,to whom not only do I give thanks,but also all the churches of the Gentiles. 16:6 Greet Mary , who has WORKED hard for you. 16:9 Greet Urbanus,our fellow WORKER in Christ and Stachys my beloved. 16:12 Greet Tryphaena and Tryphosa,WORKERS in the Lord.Greet Persis the beloved,who has WORKED hard in the Lord. I'm hearing a grateful heart as Paul greets these fellow SERVANTS.
I couldn't help but wonder if Paul, writing under the inspiration of the Holy Spirit, would have said,"Greet Larry who is my fellow SERVANT in Christ."

Would he have greeted you as a fellow SERVANT?"